Track Lighting Suspension System Information
Review this entire page before you order suspension products.
Not sure how to use our track lighting suspension system? Take a gander at the information below to help you better understand this premium quality track lighting suspension system and become versed in the parts you will need and installation know how!
Get your Track Lighting Suspension System here!
Junction Box Overview PDF | Track Lighting Overview PDF | Seismic Bracing PDF | Cable Loop Bracket
Suspension Field Notes. A must read!
Number of suspension cables per track

2' track requires two cables
4' track requires two cables
6' track requires three cables
8' track requires three cables



Sometimes the 8' track does not come with a hole in the middle. It is ok to drill a hole in the center of the track. It is ok to slightly move the cable locations as site conditions may require this due to obstructions to insure they are hanging straight. Track is not structural and must be supported correctly. Do not panic, expect to drill some holes in the track to get everything hanging the way you want it. No two installations, ceilings, or site obstructions are the same. Plan Carefully, lay your project out before you start making assumptions and drilling holes. We want your project to go smooth.

Track has "polarity"

The power track has a "hot" busbar on one side and a "neutral and ground" on the other side. Lay your project out carefully on the floor so you can insure that the power connector can go in the correct side of the track. Do not put it in yet, as it is designed to go in and not come out. Do not over tighten the screws on any of the connectors, you will spread the track and not get electrical conduit. Do not use power tools on the track. L and T connectors have dual grounds, you will break off the extra ground on the job site so the connector will work in the track. Many connectors have a "jumper" in them so they can attach to the track physically but not electrically. Our connectors also have videos on them as to how they work.

"Making up" the electrical connections

It is recommended that the electrical connections be wired on a work bench or table then installed in the track, and the power cable run up the cable to the ceiling and the excess 14/3 be cut off there. It is a lot easier then trying to install the cable in the connector while standing on a ladder. This is covered in our videos.

Making sure you have all the parts

Before you schedule your installation make sure all the parts are on the job site and all shipments have been checked in, counted, sorted and accounted for. You are responsible for the materials list when you place the order. Our designers do their best to included everything but they are not on site. In addition our designers will make a materials list based on the drawing provided. We recommend that you add just a few connectors to insure that if the electrical has to make a change on the job site so he has materials on hand and you do not have to panic and place a air order. We will take returns on everything except the power track if you have to many of something. We need to make this return within 60 days or we can not offer a refund of the items returned. Plan ahead.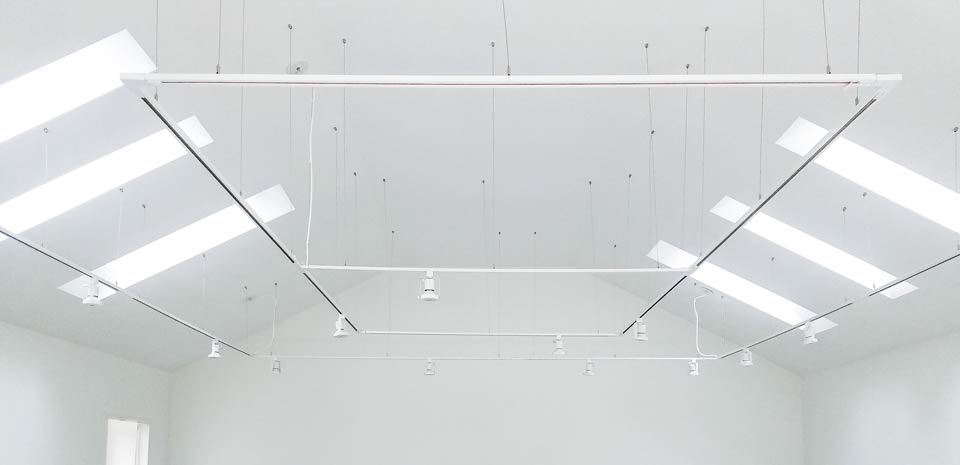 Hang track lighting from virtually any ceiling - sloped ceilings, curved ceilings, high ceilings, uneven ceilings, in hard to reach places and around obstacles.
Track Lighting Suspension System

How to Open our drop ceiling Track Lighting support T-Bar Clip

Track Suspension Track Lighting Suspension System Components Explained

Track Suspension Strain Relief for Track Power Feeds Overview

Track Suspension T-Bar clip overview and installation guide

Track Suspension HX-T-Clip-BAi t-bar clip overview and installation guide

Track Suspension HX-T-CLIP-BA-4-16W t-bar clip overview and installation guide

Track Suspension HX-T-CLIP-KEY-W t-bar clip overview and installation guide

When Where & How to use 2" Square T-bar Clip Cover, Track Lighting Suspension - Lightfair 2017 Ep.2

Cutter Tool for Track Lighting Suspension Systems

Track Lighting Suspension System Galleries
Track Lighting Suspension System Hard Ceiling Installation Overview

Track Lighting Suspension System Sloped Hard Ceiling Installation Overview

Track Lighting Suspension System Junction Box Overview

Track Lighting Suspension System Overview


Track Lighting Suspension System Seismic Bracing

Seismic Bracing overview - Download
ONLY in areas where required - Check your local code

Track Lighting Suspension System "L" Beam Truss Installation

Track Lighting Suspension System "L" Beam Installation

Track Lighting Suspension System Concrete Ceiling Installation

Track Lighting Suspension System Ceiling Obstruction

Track Lighting Suspension System For Hard Ceilings with Surface Mounted Conduit (not for concrete ceilings)

Track Suspension Cable Loop Bracket for 1/16th Cable